Previous Speakers at SVECS Quarterly Breakfast Meetings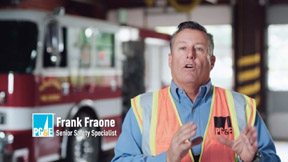 Presentation by PG&E Public Safety Specialist (January 25, 2020):
Frank Fraone, PG&E Senior Public Safety Specialist, presented:

Gas and Electric infrastructure components
Identifying utilities hazards and risks
Recognizing an emergency
Do's and don'ts at the scene
As well as other concerns for first responders.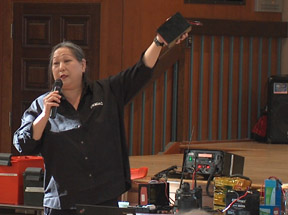 Batteries 101 (October 26, 2019):
Rachel Kinoshita KK6DAC, a member of Menlo Park CERT and South San Mateo County ARES presented a very in-depth discussion of batteries for handheld use and also 12 volt portable operations. She made comparisons of different battery chemistries with pros and cons of each and their various characteristics, such as shelf life, current capability, single use/rechargeability, leakage, capacity, and cost effectiveness. The results of Rachel's thorough research and testing will help you decide which batteries would be the optimum choice for your particular application.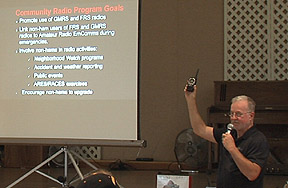 Radio For The Rest Of Us (July 27, 2019):
Alan Thompson, W6WN, presented a sequel presentation to his "The Camp Fire: Phones, Fires and Failures."

The last few years have seen a dramatic rise in the frequency and intensity of storms, fires, power shutdowns, and other natural and man-made disasters - events which often disrupt vital communications services. Recent examples include 9/11, the Boston Marathon bombing, the Carr and Camp Fires, and Hurricanes Sandy, Katrina, Maria and Irma, which wiped out cell and Internet communications. With the ever-increasing impacts of climate change and political tensions, these disasters may only become more frequent and more intense - putting us all at greater risk. Thompson's presentation also offers suggestions on how "the rest of us" might help ourselves, our friends, our families and community to stay safer in the face of cell-phone and Internet service failures.

Outline:

Profiles of recent disasters, and recurring points of failure that impair emergency communications, alerts, and evacuations, placing people's lives at risk
Coverage and comparisons of various alternative communications tools and backups to cell phones
An outline of "Radio For The Rest of Us" programs to support citizen-to-citizen emergency communications in our own, local communities
The opportunity for Ham Radio Operators and Clubs to lead the way in implementing and sustaining these programs, and thereby helping to ensure the future of our hobby

About our guest speaker Alan Thompson:

Alan Thompson, W6WN, grew up and still lives and works in Placerville California. He's the Owner and Chief Field Engineer for El Dorado Networks, providing satellite Internet systems installations and maintenance services for businesses and governmental organizations including Facebook, Intelsat, Bank of America / Merrill Lynch, the Department of Defense, and the Federal Aviation Administration. On one of his most recent projects, he was part of a Disaster Recovery Team that installed several satellite Internet backup systems to help restore cell-phone service ten days after the 2018 Camp Fire rubbed out electronic communications in Paradise and Magalia.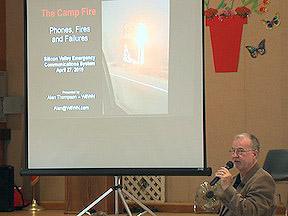 The Camp Fire — Phones, Fires, and Failures (April 27, 2019):
Alan Thompson W6WN gave a presentation on the Camp Fire, an outline of Alan's talk:

Time Line detailing events that unfolded on November 8, the first day of the fire
Catastrophic points of failure that impacted emergency communications, alerts, and evacuations
Team's role in restoring damaged cell phone service, and questions about why our services were even needed there in the first place
Suggestions for actions we can all take right now to help save lives in our local communities
Implementation of a "Community Radio Watch," and other early-warning tools
How Hams can be the Vanguard in these efforts

Alan further states:

I've updated this presentation with more emphasis on emergency communications planning and execution that went badly wrong and some suggestions on how to help reduce loss of life in other communities equally at risk for disasters on this scale. Working in Paradise and Magalia made me realize that a disaster just like the Camp Fire could happen anywhere in the Sierra Foothills. It could happen anywhere in California.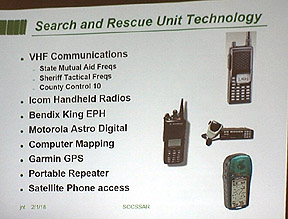 Santa Clara County Sheriff's Search and Rescue Team (Jan 26, 2019):
Dana Timbrook, AE6X, with the Santa Clara County Sheriff's Search and Rescue Team presented search management/planning/operations for the team, including having communications responsibilities. Also the handling a search dog for the team.
MARS, Military Auxiliary Radio Service (Oct 27, 2018):
Frank Fox, AF0XX, a member of MARS (Military Auxiliary Radio Service) presented MARS's mission, history and current activities.
Team Rubicon (July 28, 2018):
Magdy Zakhary presented TEAM RUBICON, a non-profit organization that utilizes the skills and experiences of military veterans with first responders to rapidly deploy emergency response teams. Visit their web page at http://www.teamrubiconusa.org
Medical Response to Disasters (April 28, 2018):
Lisa Schoenthal, City of Santa Clara Emergency Services Coordinator presented medical response to disasters. Lisa had served as Chief of Disaster Medical Services at the California Emergency Medical Services Authority.
Challenges Encountered During Large Wildland Fires (January 27, 2018):
Captain Aaron Drumright of the Santa Clara Fire Department has been dispatched to several wildland fires presented communication challenges encountered during large wildland fires in remote wilderness areas.
Fire Associates Rehab Fire Support Vehicle (October 28, 2017):
Mike Garcia and Bob Gundrum presented the Rehab Fire Support Vehicle that is a canteen set up to supply coffee, cold drinks and other forms of sustenance for weary firefighters on the scene. Vehicle is with Fire Associates of Santa Clara Valley, a non-profit volunteer organization that supports firefighters at multi-alarm incidents. For further information see http://www.fascv.org
County 3rd Annual Radio Direction Finding Mini-Drill (July 22, 2017):
Mark Laubach, K6FJC, Assistant District Emergency Coordinator for Santa Clara County ARES/RACES, discussed planning for the County's 3rd Annual Radio Direction Finding Mini-Drill on July 29th, and included RDF fundamentals, equipment requirements and advanced techniques.
CalFire 1629 Mobile Command Vehicle (April 22, 2017):
Nick Arnett, KJ6FOI, presented CAL FIRE 1629, a mobile command vehicle designed, built and operated by volunteer ham radio operators. Nick and other participating hams will described 1629's ham and government communications capabilities and their role in emergency responses including the Loma Prieta fire.

Nick Arnett, KJ6FOI, a member of Santa Clara ARES/RACES, is a nationally registered EMT and former paramedic with experience in domestic and international disaster response in medical, communications, crisis intervention and chaplain roles. He has been a contract CAL FIRE employee during major incidents. He is a member of the California Fire Chaplain Association, on the executive board of the California Peer Support Association and a member of the Contra Costa County Public Safety Support Association. He received a Volunteer of the Year award from the Santa Clara County Emergency Managers Association in 2012. His occupation for the last 20 years has been product management leadership in the software industry.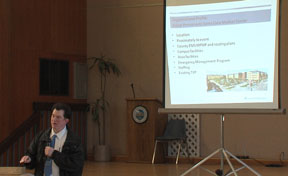 Planning Process for Level One Homeland Security Event (January 28th, 2017):
Rick Filippuzzi, Safety Specialist with Kaiser Santa Clara, presented the planning process for a Level One U.S. Homeland Security Event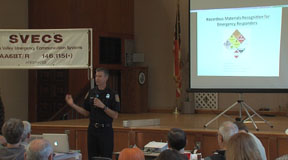 Hazmat Recognition (October 22, 2016):
Jon Boucher, Engineer/Paramedic with the Santa Clara Fire Department presented Hazmat Recognition.

After a disaster such as an earthquake it is inevitable that hazardous materials will be released. In order for emergency communicators in the field to remain safe, it is critical to be able to recognize when hazardous materials are present. This presentation is designed to provide emergency responders with the ability to recognize Hazmat so that they can keep a safe distance and be able to pass along important information to command. Some of the topics covered:

Common indicators of Hazardous Materials
Common types of buildings and vehicles which carry Hazmat
Placarding systems for buildings and vehicles

General hazardous materials chart.

PDF of Hazmat markings, labeling, and placarding guide from DOT.
Engaging Youth With Amateur Radio (July 23, 2016):
Jim Yoke, KI6HKZ, emergency manager for Santa Clara County Fire presented ideas on engaging youth with amateur radio.
Electronics Flea Market (May 14, 2016):
Here are some of the volunteers that worked the coffee/donut tent that SVECS hosted for Electronics Flea Market held at DeAnza College in Cupertino.
Radio Testing and Analysis (April 23, 2016):
No presenter at this breakfast, communication analyzers and RF generators were set up to test attendee's radios for various parameters such as frequency, deviation, power output, sensitivity, ect. A few testing stations were used to accommodate everyone's radios.
Risk and Impact of a Communications Outage (Jan 23, 2016):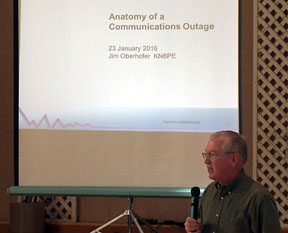 South County Airport Pilots Association, Disaster Airlift Response Team (Oct 24, 2015):
Rod Pharis and Terry Cummings (WA6WCB) from the South County Airport Pilots Association (SCAPA) discussed the mission of Disaster Airlift Response Team (DART). SCAPA DART website.
SATERN, Salvation Army Team Emergency Radio Network (July 25, 2015):
Chuck Graham KI6DCD, Larry Loomer KI6LNB, and Terry Buxton KK6KGX presented the mission of SATERN (Salvation Army Team Emergency Radio Network) and their involvement in emergencies.
Amateur Radio Installations at County Fire Stations in Cupertino (April 25, 2015):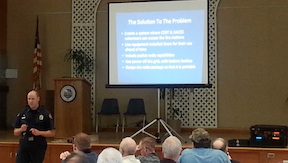 Tim Maguire, Fire Captain with Santa Clara County Fire Department, and Jim Oberhofer KN6PE, Cupertino ARES/RACES Emergency Coordinator, presented amateur radio installations for use in disasters at County Fire Stations in Cupertino. The goal of this project is to enhance the response effectiveness of Cupertino volunteers when interacting with city residents during a disaster while maintaining a limited operational presence at Santa Clara County Fire Stations.

Website with all the project details attendees were asking for is at http://www.cupertinoares.org/index.php?content=proj1406

Download presentation slides from http://www.cupertinoares.org/pdocs/VCP2014-SVECS-Presentation.pdf
Achievements of the County ARES/RACES Organization (January 24, 2015):
Santa Clara County DEC Scott Morse KC6SKM recapped achievements of the county ARES/RACES organization in 2014 and discuss goals for 2015.
Countywide Broadband Mesh Networks (October 25, 2014):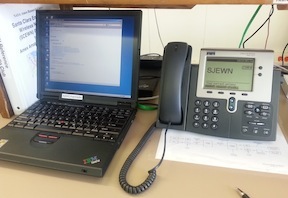 Craig Anderson N6YXK presented a Terrestrial Microwave Data Network in the context of RACES to the SVECS quarterly breakfast meeting.

This countywide broadband mesh network uses low cost wireless links of WISP and WIFI equipment (2.4 and 5.8 GHz Part 15 802.11 radios) between emergency operations centers throughout Santa Clara County. These wireless datalinks enable applications as diverse as the internet itself including web services, forms, instant messaging, file transfer, VOIP phone service, digital video, or social media, but without reliance on public internet infrastructure. This system began as the Santa Clara Emergency Wireless Network, http://www.scewn.org, a standalone system independent of the internet and commercial networks. Craig was the Coordinator of SVWUX - Silicon Valley Wireless User's and Experimenters, http://www.svwux.org

Most currently deployed radios are products by Ubiquiti Networks, such as BulletM, NanoBridge, and NanoStation. These radios were favored because they are the most affordable devices we could find that were tailored to long range communication.

This photo shows a Ubiquiti 5.8GHz NanoBridge radio mounted alongside a 440 MHz band yagi antenna. Radio fits into the parabolic antenna, a Cat5 cable routes down to inside building where it connects to a POE (Power Over Ethernet) device that provides power to the NanoStation.

Video of Craig Anderson's presentation at SVECS
PDF of Craig Anderson's presentation slides

Photo showing elements connected together with Cat5 cable
Diagram of Ubiquiti Nanobridge Radio to PC and VOIP phone
Schematic for power crossover PoE cable for VOIP phone

Comparison of SCEWN to Amateur Radio

Map of SCEWN, http://www.comopview.org/scewn

Other amateur radio operators are working on similar systems, such as broadband mesh networks at http://www.broadband-hamnet.org

Some of the items used:

Other applicable SCEWN links:

San Francisco Earthquakes, Past and Present, and Seismic Risks in the Bay Area (July 26, 2014):
Kent Fogleman, recently retired from the United States Geological Survey (USGS) presented San Francisco earthquakes, past and present, and seismic risks in the bay area.
Emergency Preparedness Plan for Kaiser Santa Clara (April 26, 2014):
Rick Filippuzzi, Emergency Preparedness Planner for Kaiser Santa Clara, presented their emergency plans and how Amateur Radio operators can be integrated.
Toward an Integrated Electronic Messaging System (January 25, 2014):
A summary of the past three years and a look at what's next. Presented by Michael Fox, N6MEF, representing the Packet Committee for Santa Clara County ARES/RACES.

Video of presentation (1 hr, 3 min)
Download presentation PDF (3.6 MB)

Everything discussed today is due to the efforts of these people!

John Altieri, W6HW
Jim Clark, N6JRC
Bob Fishman, K6FSH
Michael Fox, N6MEF
Jerry Haag, K6GAC
Tim Howard, KE6TIM
Doug Kalish, KA3L
Jim Oberhofer, KN6PE
Andy Rose, KI6SEP
Phil Henderson, KF6ZSQ
Tom Smith, KD6SOJ
Logan Zintsmaster, KZ6O
Radio Testing and Measurement Party (October 26, 2013):
Don Steinbach AE6PM brought radio test and measurement equipment (communications analyzer) for attendees to evaluate performance of their radios.
Care and feeding of your batteries (July 27, 2013):
Chris Capener, AI6CC, discussed choosing your batteries, optimizing your batteries for longevity, durability, and reliability.
ARES Items (April 27, 2013):
Brandon Bianchi, NI6C, presented ARES items.
Coast Guard Auxiliary: Their Mission, Communications and Activities (February 2, 2013):
Derek Lyon-McKeil, AI6F, presented the Coast Guard Auxiliary, their mission, communications and activities.
Santa Clara County Terrorism Task Force (October 27, 2012):
Stephanie Christenberry, City of Santa Clara liaison, talked about the Santa Clara County Terrorism Task Force.
History and Current Mission of the Civil Air Patrol (July 28, 2012):
Commander Captain Coby Sena discussed the history and current mission of the Civil Air Patrol. Deputy Commander 1Lt George Gadd, KG6PHK, covered communication capabilities of the Civil Air Patrol Senior Squadron 80.

For more on CAP, see http://gocivilairpatrol.com and http://gp2.cawg.cap.gov
Mounted Search and Rescue Team of San Mateo County (April 28, 2012):
Tsuki Black, KI6MEI, presented the mission and past activities of the Mounted Search and Rescue Team of the San Mateo County Sheriff's Department.
NVIS and advanced digital communication techinques (January 28, 2012):
John Rosica, KA2FND, will give a presentation/demonstration on NVIS and advanced digital communication techinques. John's company NVIS Communications/Barrett Communications Consulting (http://www.barrettusa.com) has many HF/VHF communications equipment that uses NVIS.
Emergency Management and Radio Communications (July 23, 2011):
Jim Yoke, KI6HKZ, Santa Clara County Fire Department Emergency Services Coordinator gave a presentation on Emergency Management and Radio Communications.
Search and Locate practice, Visual and Radio Direction Finding (July 23, 2011):
Cuesta Park in Mountain View
Event was open to any interested ham radio operator or CERT responder that would like to have some FUN in a Search and Locate exercise. County MAC/MIT participants got some drill work too.

Scenario: SCC ARES/RACES were asked to provide and coordinate responders to assist a local agency in finding some lost items in a park. (NOTE: There is no requirement for RDF capability in order to participate in the exercise drill.) Stuck microphone scenarios may appear, Net Control may perform frequency change exercises, and more.

*Those not a Santa Clara County DSW were asked to sign up and swear in at the event. Participation in this event required having a current Santa Clara County DSW status.
Digitizing Radio Content for Web-based Common Operations (April 30, 2011):
Martin Griss, KJ6MIN, Carnegie Mellon University DIM Director provided overview of their work on digitizing radio content for use in web based common operations.

Due to unforseen circumstances Jeannie Stamberger, previous speaker for Carnegie Mellon Disaster Management could not appear for the April 30th SVECS Quarterly Breakfast. She apologized for the switch in speakers; she mentioned amateur radio community does fantastic work during emergencies and would love to further incorporate that community into the next generation technology development research at the DMI.
San Bruno Gas Pipeline Explosion (Jan 22, 2011):
Rob Goodson, N2RAG, spoke on his involvement with communications for the Red Cross during the San Bruno gas explosion.
Go-Cases, Deployable Radio Systems (Oct 23, 2010):
Neal, WA6OCP, gave a presentation on the SARES (Sunnyvale Amateur Radio Emergency Service) "Go-Cases." The evolution of a series of deployable radio systems (FM voice and packet along with HF) from an initial, and simple, concept of just equipping a trailer as a mobile emergency communications center.
National Night Out (August 3, 2010):
San Jose RACES

SJ RACES provided hams to National Night Out to let the neighborhoods know that when the cell phone towers fall and ATT is totally busy WE WILL BE THERE. A check-in net at was on N6NFI repeater that connected all the local National Night Out events. San Jose registered 86 sites within the city.

Hayes Mansion: 200 Edenvale Ave.
Backesto Park: No. 13th & East Empire.
Alma Community Center: 136 West Alma.
Washington United Youth Center: 1st & Virginia.
Strawberry Park: http://www.strawberryparkna.org

Santa Clara ARES/RACES

City of Santa Clara supported National Night Out with members position at various different neighborhood meetings around the city. They monitored and interacted with the SJ RACES effort on the N6NFI repeater. http://santaclara-ares.org
Canine Search and Rescue (July 24, 2010):
Lynne Engelbert discussed her duties as a canine search specialist.

Ms. Engelbert experience includes working with the Canine Specialized Search Team, Institute for Canine Forensics, and NASA Disaster Assistance & Rescue Team. She also has a degree in Fire Science Technology from Mission College.

Lynne and her dog Lucy worked with California Task Force 4 the recovery effort at World Trade Center in September 2001. http://dogsinthenews.com/issues/0206/articles/020601y.htm

Ms. Engelbert has worked numerous disaster and recovery events including Hurricane Katrina, Shuttle Columbia recovery, and Oklahoma City. See Saratoga News article, "Saratoga woman and her dog, Sweep, are there when they're needed." http://www.k9forensic.org/MNews-Engelbert.pdf
Cisco NERV Vehicle (April 24, 2010):
Catherine Blackadar and Rakesh Bharania, N6ILG, gave a presentation on the Cisco NERV vehicle (Network Emergency Response Vehicle), and a NERV vehicle in the parking lot for show and tell.
When all else fails, the April 2009 Cable Cut (January 23, 2010):
43 hams delivered critical assistance at a time when most means of communications (cellphone, landline, internet services) were either completely interrupted, or severely overloaded. Pat Moore KG6RLR (EC Gilroy) discussed the response by amateur radio operators stationed at various locations to provide communications links and became the eyes and ears of police and fire on the streets.
Packet Updates in Santa Clara County (October 24, 2009):
Jim Oberhofer KN6PE presented updates to packet radio in Santa Clara County. Jim is also author of Outpost (http://www.outpostpm.org), a MS Windows based program which provides a email style interface to packet TNCs and soundcard based packet programs. Agenda included,
Why do we still talk about packet? Why use it?
Where are we today?
The Enhanced County Packet System
Other changes
Jim's presentation slides are available here: (PDF file)
Photos from Oct 24, 2009 meeting: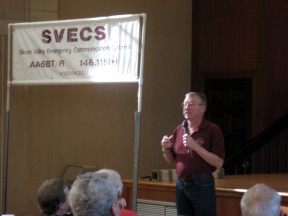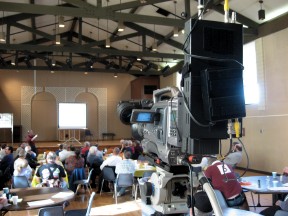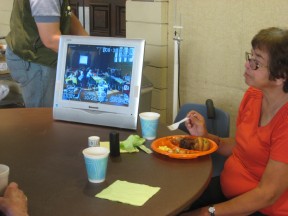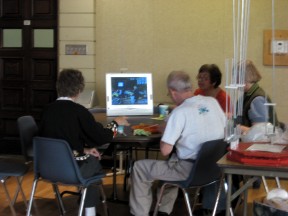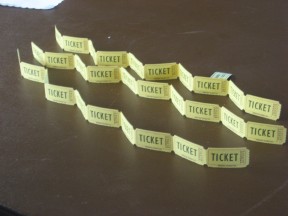 Copernicus Peak Fire Lookout (July 25, 2009):
Chris Morgan of Calfire discussed the Copernicus Peak Fire Lookout station near Lick Observatory on Mt. Hamilton.

The fire lookout was closed for 17 years reopened in 2007.
Calfire News June 2007 article:

A 2-and-a-half-year-old volunteer project resurrected the lookout, which will not only preserve one of the Santa Clara Unit's historical places, but will recognize Cal Fire's 100-plus years of service.

Volunteers will staff the lookout on an as-need basis during red flags, high winds, after lightning storms and on high-fire danger days.

The lookout was constructed in 1938 and served as one of several fire lookouts within the Santa Clara Unit, a 1.4 million-acre stretch.
Electronics Flea Market, De Anza College (June 13, 2009):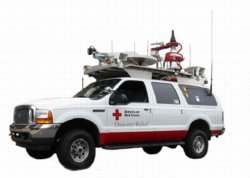 Red Cross Emergency Communication Response Vehicle (April 25, 2009):
George Williams N6NKT discussed the Red Cross communications capabilities. They showed the Emergency Communication Response Vehicle at the breakfast. For more info, see http://ecrv4712.org
Fiber Cable(s) Cut Causes Telephone/Internet Outage in Santa Clara County (April 9, 2009):
To all hams who worked on April 9, 2009
from Larry Carr KE6AGJ
Chief Radio Officer, RACES
Santa Clara County OES
I would like to thank all the hams who provided support during the phone outage that occurred on Thursday, April 9, 2009. The 43 hams, listed below, delivered critical assistance at a time when most means of communications were either completely interrupted, or severely overloaded.

Your professionalism was apparent, and I commend you all!

CAMPBELL
Julie Burns K6AKA
GILROY
Jon Moore KG6YOL
Jack Luoma W6JAK
Kris Moore KG6YPB
Pat Moore KG6RLR
LOS ALTOS
Tom Smith KD6SOJ
Michael Fox N6MEF
LOS ALTOS HILLS
Al Whaley KV6U
MORGAN HILL
Mike Chappel KB6PDA
Guy Martin K6GWM
Randy Christensen KI6PNS
Wayne Rohten KD6HMJ
Gary Gokel K6GMG
Pam Rohten KD6WQD
Eric Hilding K6VVA
Woody Salyer K6WWS
Darrel Holmdahl KG6ZHD
Logan Zintsmaster KZ6O
Michael Johnston KI6CBS
MOUNTAIN VIEW
Bob Fishman K6FSH
Steve Hill KG6EVZ
George Freeman KG6POV
Dave Platt AE6EO
Mark Gilkey KI6BQC
Ed Senior W6LOL
NASA/PAF
Mark Foster KI6DHU
PALO ALTO
Ron Greene KG6RLG
Doug Kalish KA3L
SAN JOSE
John Amos KC6TVM
Ray Rogoway W6RAR
Chris De Mille KI6FAN
Peter Walde KI6DDX
SANTA CLARA COUNTY OES
Larry Carr KE6AGJ
Scott Morse KC6SKM
Dave Chamberlin N6DWC
SUNNYVALE
Andreas Ott K6OTT
Phil Stewart K6PHL
Howard Krawetz N6HM
Robert Stodieck KI6GDF
Jordan Makower WA2BRV
Bill Young K6VWO
Tom Root KF6NEW

NOTE: If any ham who responded has been left off this list, please let me know.
Media coverage of telephone/internet outage:
Preparing for disaster: Phone outage tests emergency workers
http://www.mercurynews.com/breakingnews/ci_12119261

"The South Bay telephone outage - reportedly caused by vandals who cut fiber-optic cables - roused and brought together, as if on cue, a group of emergency responders to a man-made disaster, kicking into gear a scenario that they practice year-round, never knowing when that disaster will strike."

"And officials in Santa Clara and Monterey counties are praising ham radio operators not only for their quick response, but also for coming through when state-of-the-art technology failed. Amateur radio operators, armed with their antennaed boxes - the true wireless - became the eyes and ears of police and fire on the streets."

Phone service restored after vandalism shuts it down in Gilroy, Morgan Hill, Santa Cruz County
http://www.mercurynews.com/breakingnews/ci_12106301
Stress Management and PTSD (January 24, 2009):
Sharon Moerner N6MWD discussed Stress Management and Post Traumatic Stress Disorder (PTSD) focused towards amateur radio people involved in disasters.
APRS Applications in ARES/RACES (October 25, 2008):
APRS was presented by Dave Witkowski W6DTW and Cap Pennell KE6AFE.

Dave worked in the Silicon Valley since 1998 in design engineering, engineering management, and consulting. He also serves on the board at the Wireless Communications Alliance (http://www.wca.org).

Cap worked as a CDF Fire Captain, now retired, but is active DEC for Santa Cruz County ARES/RACES. He maintains a APRS web server and APRS station.
Amateur Radio's Role with Emergency Medical Services in Santa Clara County (July 26, 2008):
Michael Clark, Training and Operations Coordinator for the Santa Clara County Public Health Dept., discussed emergency medical services preparation and resources, and how amateur radio can assist during times of major events. His department's webpage has various items of interest including (in Information Library) training packets, pandemic flu press releases, health advisories at http://www.sccemsagency.org
Electronics Flea Market, De Anza College (May 10, 2008):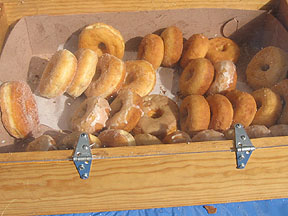 A Big Thanks to all that helped SVECS at the coffee/donut tent at Electronics Flea Market. We sold all the donuts!

Near Vertical Incidence Skywave (April 26, 2008):
WiFi used in Emergency Communications (January 26, 2008):
Amateur Television for ARES/RACES Operations (November 3, 2007):
Presentation by Michael Wright, K6MFW
Emergency Communications and the ARRL (July 28, 2007):
Presentation by Bob Vallio, W6RGG, Pacific Division Director
Hazmat Safety (April 28, 2007):
Presentation by Dave Parker, Hazmat Coordinator, City of Santa Clara Fire Dept.
Electronics Flea Market (April 14, 2007):
SVECS hosted the coffee/donut stand for the electronics flea market at De Anza College, http://www.electronicsfleamarket.com. SVECS also gives a big Thank You to all who volunteered.
MCI and Amateur Radio Emergency Services (January 27, 2007):
Presentation by Bob Cascone, Supervisor, AMR.
Silent Key - WA6RPI (January 9, 2007)
Art Nilli ~WA6RPI~ became a silent key this past Saturday. Art was a member of SARES as well as a Santa Clara County Assistant District Emergency Coordinator, and long time companion Joanne Wilton ~KG6JTY~. The January 20, 2007 ARES/RACES countywide drill was dedicated to honor Art.
Volunteer of the Year Awards (Dec 14, 2006)
The Santa Clara County Emergency Managers Association awarded Volunteer of the Year awards to volunteers from 12 cities in the county, and one volunteer from Santa Clara County OES; of the thirteen awards presented this year, six went to hams. The following hams were selected by their cities to receive this award: Paul Lufkin, K6PML, Palo Alto; David Platt, AE6EO, Mountain View; Christina Sand, KG6ORH, Saratoga; Smitty Smithwick, W6CS, Los Altos Hills; and Bob Steinberg, K6RPS, San Jose. In addition, Larry Carr, KE6AGJ, was selected by Santa Clara Co OES as their choice as Volunteer of the Year. Congratulations to all.
PG&E Pipeline Safety (October 28, 2006):
Presentation by Tom Crawford, P.E.
Santa Clara County Water District Emergency Services Program (July 22, 2006):
Presentation by Mike Hamer, Utility Operations Manager
Hurricane Katrina Recovery Effort (April 22, 2006):
Presentation by David Chamberlin, N6DWC
Electronics Flea Market (March 11, 2006):
SVECS hosted the coffee/donut stand for the electronics flea market at De Anza College, http://www.asvaro.org/fleamarket. SVECS also gives a big Thank You to all who volunteered.
Hurricane Katrina Emergency Response (January 21, 2006):
by Barbara Cimino, Emergency Manager
City of Palo Alto, Office of Emergency Services
PG&E Powerline Safety (October 22, 2005):

Electronics Flea Market (October 8, 2005):
SVECS hosted the coffee/donut stand for the electronics flea market at De Anza College, http://www.electronicsfleamarket.com. SVECS also gives a big Thank You to all who volunteered.
Utilizing APRS for Emergency Communications (July 23, 2005):
Specifically, Frank Kibbish, Jr. (WB6MRQ) presented on how APRS was used for the CDF Fourth of July fire patrols. He also pointed out how usage of APRS could be applied in emergency communications situations -- both for CDF and other agencies.
Incorporating Amateur Radio into Emergency Prepardness Planning (April 30, 2005):
Steve Garcia, public safety officer with town of Los Altos Hills, discussed incorporating amateur radio into emergency prepardness planning.
California OES Auxiliary Communications Service (January 22, 2005):
Dave Larton, N6JQJ, and Jim Aspinwall, WB9GVF, gave a presentation on the Cal State OES Auxiliary Communications Service (ACS).
Recent Hurricanes and Working with FEMA (October 23, 2004):
Guest speakers Dru Anderson KG6LAD and John Amos KC6TVM, having just returned from the hurricane ravaged southeast, spoke of their experiences while with FEMA.
Electronics Flea Market (September 11, 2004):
Union Pacific Railroad Emergency Prepardness (July 24, 2004):
Ernie Sirotek, Jr. discussed Union Pacific Railroad emergency prepardness. Mr. Sirotek is the Regional Manager, Chemical Transportation Safety, for Union Pacific Railroad.
Bay Area Earthquake Studies (April 24, 2004):
Steve Walter from the USGS gave a historic overview of 50 years of earthquake studies in the Bay Area.
Emergency Communications Procedures (January 24, 2004):
Our planned speaker Holly Milnes, a dispatcher for Moffett Field Police Department, was to discuss techniques used for good radio communications. She had to tend to a more important matters that Saturday so Bob Gundrum, KG6MOL, substituted. Bob worked many years as a fire department dispatcher.

A dispatcher is a first responder to a link in a chain of emergency services. Other items discussed were what kind of people make successful dispatchers, required skills, official job requirements, preparation, and time tested techniques that work.

Hardcopies of the paper "Radio 101 Techniques for the Field" were distributed at the meeting. This paper was authored by Linda Olmstead, a dispatcher for the CHP in Monterey. A PDF can be downloaded here, http://www.svecs.net/Radio101.pdf. See Linda's webpage at http://www.gryeyes.com

Website editor's note: I later talked to Holly and she mentioned Evergreen College has a 3-week dispatcher course that leads to certification. Other tips she suggested were use the words "affirmative" or "negative," not "yes" or "no" ("no" can be mis-heard as "go").
Micro RAWS, a Remote Automated Weather Station (October 25, 2003):
The October 25th SVECS breakfast was a free breakfast to thank the volunteers who helped with the SVECS hosting of the Foothill Electronics Flea Market in August.

The speaker was Ben Vickers, WB6FRM. He demonstrated the Micro RAWS, a Remote Automated Weather Station deployed by CDF near wildfires to help plan firefighting operations.

Data from Raws Obs stations can be found at the National RAWS Data Server: http://raws.boi.noaa.gov/rawsobs.html
Foothill Electronics Flea Market (August 9, 2003):
SVECS hosted the coffee/hotdog stand at the Foothill College flea market, http://www.electronicsfleamarket.com. SVECS also gives a big Thank You to all who volunteered.

Here are some photos taken during a lull from the crowds. SVECS featured most delicious hotdogs.
Disaster Medical Assistance Team (July 26, 2003):
David Lipin, commander of the California Bay Area DMAT CA-6, discussed the purpose and activities of the Disaster Medical Assistance Team. Please see their website at http://dmatca6.org.
Transmitter Hunting and Equipment (April 26, 2003):
Rich Harrington, KN6FW, discussed transmitter hunting and the equipment used. He demonstrated various antennas, techniques using handhelds in close proximity of transmitters, and showed the kinds of systems including the MicroFinder Doppler RDF. For webpages of interest please see http://www.thunt.org (Transmitter hunting in the San Francisco Bay-Area) and http://www.ahha-doppler.com (MicroFinder Doppler RDF).

Notes from talk by Rich: Steps to locating a transmitter:
Get on a high mountain.


Body fade with a HT, unreliable but easy.


Use a beam antenna with an attenuator. 5 to 10 degrees of accuracy.


Use a "time of arrival" set which is more accurate than a beam but cannot tell if in front or behind.


Use an interferometer (also needs an attenuator) which are two beams 180 degrees out of phase with each other. This gives one degree of accuracy.


Use a doppler, electronically measuring the phase of antennas rotating very fast, but doppler lies a lot.


Use triangulation but this has high mileage.


Draw bearings on topo maps.


Transmitters are always near roads.


Lay an HT on seat of car, it will pick up signal when near.
a. then go to a paperclip antenna.
b. then remove antenna and that's when you start walking.


When 300 to 400 feet, use an aluminum foil can for a HT. Further down the tube, the worst the signal gets.


Time of Arrival set will work far and near.


Use 3rd harmonic, almost all transmitters have this. Tune to this when close.


Image frequency: 2X the IF is also very sensitive when close.


Also use the off frequency.


Use your eyes and look for an antenna.


Use a signal strength system when near.
Other suggestions:
Rule 1: Follow your initial bearing.
Rule 2: Get back on to initial bearing.
GPS is handy for bearing on mountain roads.
Also carry emergency supplies like a flashlight, snacks, water, and raincoat.
This book on T-Hunting is the bible:
Transmitter Hunting, by Joseph Moell, KÌÎåÂOV, and Thomas Curlee, WB6UZZ.
HF Backpacks (Jan 25, 2003):
Bonnie Crystal, KQ6XA, presented portable battery powered HF radios, a valuable adjunct to VHF/UHF communications for ARES/RACES.

Bonnie Crystal is a RF engineer, inventor, author and columnist, and also co-founder of Telegen and Telisar. Please see her website at http://www.qsl.net/kq6xa
Santa Clara Sheriff's Dept. Search and Rescue (Oct 26, 2002):
Doug Mincey discussed the Santa Clara Sheriff's Department SAR purpose, experiences, and equipment used. Doug also displayed the team's truck, gear, and radio systems.

The Santa Clara County Sheriff Search and Rescue Team is comprised entirely of unpaid volunteers. The teams mission includes urban, rural and wilderness SAR; Evidence search and public education. Please see their website at http://www.sccssar.org.