http://www.svecs.net
Silicon Valley Emergency Communications System
AA6BT, 146.115(+) 100PL
coordinated through N6NAC, 444.625(+), 110.9PL

Last modified on 10.15.14

Santa Clara County ARES/RACES website: http://www.scc-ares-races.org

SVECS Weekly Net on Tuesday Nights at 2000 hours on AA6BT (146.115+, PL100.0)

SVECS Tuesday Night Packet Check-in (before 2000 hrs!)

Santa Clara County local HF net

SVECS Membership Application, (click here for PDF form)

SVECS Board of Directors

Chairman
Lou Steirer, WA6QYS
(408) 241-7999
wa6qys@aol.com
Treasurer
Don Steinbach, AE6PM
(408) 867-3912
ae6pm@arrl.net
Secretary
Bob Underwood, AA6BT
(408) 255-1997
aa6bt@arrl.net
Board of Directors
Ralf Erickson, WA6CQA
(408) 245-6034
wa6cqa@sbcglobal.net
Ben Vickers, WB6FRM
wb6frm@pacbell.net
Glen Lokke, Jr., K6GNG
glokke@pacbell.net
Gregg Lane, KF6FNA
SVECS Address:
SVECS Santa Clara Valley
857 Tamarack Lane
Sunnyvale, CA 94086

Tutorials and References: (Click here for more)

Santa Clara County ARES/RACES website: http://www.scc-ares-races.org

SPECS, Southern Peninsula Emergency Communication System (North County):
http://www.specsnet.org
---
Previous Speakers at Quarterly Breakfast Meetings
SVECS Events
SVECS Quarterly Breakfast Meeting:
Countywide Broadband Mesh Networks (megabit packet radio)
Saturday, October 25, 2014
9 am to 12 noon
Santa Clara Senior Center
1303 Fremont St. (corner of Monroe and Fremont)
Santa Clara, CA
GPS coordinates: 37.350269, -121.949827
Thomas Guide page 833 quadrant E4
click here for map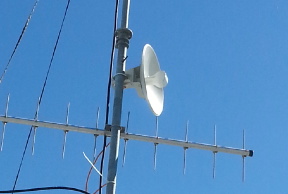 The San Jose Emergency Wireless Network (SJEWN) project is a Megabit speed radio data links using broadband network systems between the emergency operations centers throughout Santa Clara County. Craig Anderson will present how wireless datalinks enable applications as diverse as the internet itself including web services, forms, instant messaging, file transfer, voice over ip, digital video, or social media, but without reliance on public internet infrastructure.


SJEWN (but domain name is still scewn) is a non-profit cooperative dedicated to promoting network connectivity between key public service end points in the event of a disaster. http://www.scewn.org

Comparison of SJEWN to Amateur Radio

Other amateur radio operators are working on similar systems, such as broadband mesh networks at http://www.broadband-hamnet.org

Door prizes: $125 gift certificate for HRO.

Breakfast at 9 am, program at 10 am.

Please RSVP on the SVECS net, AA6BT repeater, 146.115+ 100PL, Tuesdays 2000 hours, or Lou WA6QYS at 408-241-7999.

Volunteers to help with the breakfast are always needed. Please arrive at 0730.

Donations for the raffle table are graciously accepted.

Image is Glen Jr. K6GNG, chief cook, watching SVECS presentation in kitchen via live amateur TV.
J-Pole Antennas by SVECS
These famed American Legion Post 380 J-pole antennas are regarded as highly effective antennas for ARES/RACES base stations, fixed and field use. VSWR is virtually 1.000 and very cost effective for a donation of $30.

Antennas are sold at DeAnza electronics flea market (next to coffee/donut tent) and also at Quarterly Breakfast Meetings.

Below is the SVECS tent next to coffee/donut tent with collection of J-pole antennas for sale. Antennas are available for 2-meter VHF, 220 MHz, and 440MHz.
DeAnza College Electronics Flea Market site at http://www.electronicsfleamarket.com
Santa Clara Valley NTS
SCV section National Traffic System voice nets meet Tuesday at 2100 hrs Pacific time on the Loma Pioneer Repeater Club 146.640 minus offset, 162.2 PL, LPRC website at http://www.lprc.net

Santa Clara Valley NTS group site is to educate and train amateur radio operators to use the National Traffic System, a method to pass text messages over ham radio, vital to emergency radio service. See http://groups.yahoo.com/group/nts_scv/
---
Michael Wright, K6MFW
SVECS Webpage Editor
(650) 604-6262
mfwright@batnet.com
Webhosting by

Silicon Valley Public Access Link
http://www.svpal.org

Notes:
Many thanks to Hee So, N6XVK, for setting up the domain and initial webhosting for svecs.net.
N6NAC returned as UHF linked repeater (8-18-2008)
K6SNY became new UHF linked repeater, previously was N6NAC (May 2008)
SVECS AA6BT Repeater old callsign was WB6ADZ (was changed early in 2003).
N6NAC (440 repeater) old callsign was WB6FIY (was changed in mid 2003).